Update: Starting January 2018
Company Long Haul / Regional Drivers Regularly Earn $ .50 cents per mile!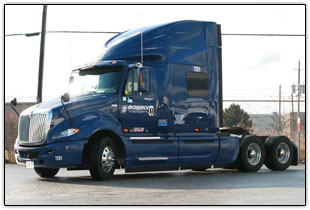 Pay Package Includes Mileage pay PLUS:
$10.00 – drops and hooks
$20.00 – per hour for hourly work
$10.00 – scale loads – when necessary
20 per hour for waiting time
Border crossing is increased to $20 per trip to the USA
Reset on road is going up to $100 per occurrence
Loading & unloading increasing to $22 for first hour, $20 for all hours after until completed
$.03 premium Eastern U.S. .
$150.00 – paid layovers after 24 hours
MONTHLY Performance Bonus qualified drivers. 0.05 Mile
Paid bi-weekly by direct deposit
$200.00 Training bonus paid at 90 days.
$1000 Sign Bonus
2 cents per mile for Fuel Bonus with 8000 miles per month and 75% compliance with Fuel Solutions
an additional 3 cents per mile for Performance Bonus with 10,000 miles per month and Low Idle percentage with no accidents or CVOR infractions
In January 2018, 85% of our Drivers achieved 8000miles+ !!
We also offer company drivers a complete and comprehensive benefits package available after 90 days which includes:
extended health care benefits including long term disability and life insurance
Late Model Assigned Tractors (NO slip seating!)
2018 and newer Freightliner and International bunk tractors which are equipped for driver comfort
Qualcomm equipped  – mandatory electronic logs for strict adherence to H.O.S. / safety regulations
In-house safety and preventative maintenance programs
Regional Drivers are home most weekends
Singles average between 2300 and 3000 miles per week
Teams average over 5000 miles per week
Work out of Windsor, Chatham, London and Milton yards
Call Recruiting Now at: 1-800-567-3260 ext 150 Local at 519-250-8008
Contact us for more information at https://morricetransportation.com/drivers/drivers-needed.